In December, we always take some time to reflect on the year and work on some goals for the one ahead. 2018, no doubt, was a big year for Wicky Design. We went through a lot of changes, both personal and career wise and hit some major milestones for our business. While we encountered some hiccups along the way, overall, this year was amazing.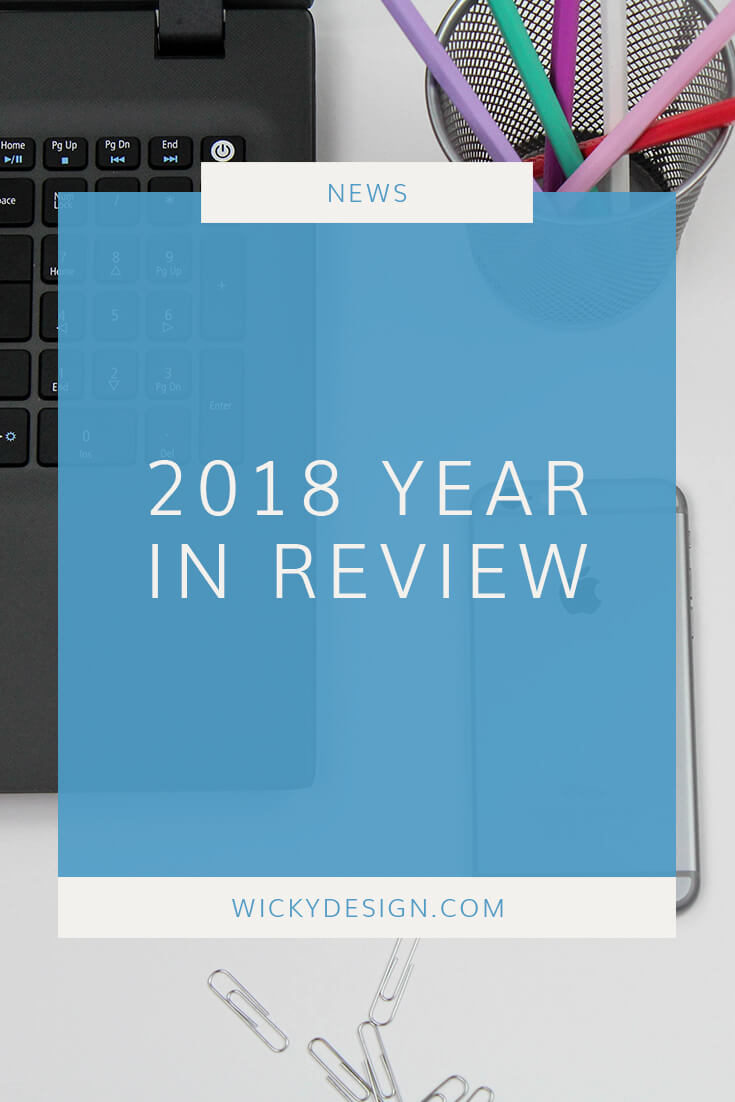 Clients
We worked with some amazing people this year to help them kickstart their dreams of owning their own business. One of the things we really like about our work is getting the opportunity to work with people in so many different industries. Some notable projects from this year:
Working to create the brand and website design for Benedum Law. We've seen Christine's business thrive since her launch and we couldn't be happier for her success!
Creating the brand and website design for The Traveling Dentists, a mobile dentistry practice. We loved the idea behind Dr. Neville's business and know it will help so many people that could not otherwise see a dentist.
Working with Allison Emmerich to create a brand and website design for her unique event planning business. Allison is extremely talented and sweet and we are so excited for her!
Partnerships
In 2018, we developed new partnerships and strengthened some old ones. Working with people in similar industries has really helped our business grow and change. Being in can be hard and there's no reason to go at it alone. Working together with great, talented people allows everyone to produce a better product. Our only regret is that we didn't do it sooner! You'll be seeing a lot more collaborations from us in 2019.
Networking groups have been instrumental to our growth this year as well. We joined some great new ones, giving us several opportunities to speak about our services and our business.
New Ventures
In September, we launched our YouTube channel that gives people tips on working with a designer, managing their websites and a behind the scenes look into our lives. Video is something we've been toying with for awhile now and we are slowly getting more comfortable with being on camera. We have big plans for our channel next year and hope to produce better, more helpful content for our audience.
In late November, we launched a brand new project called Must Love Traveling. This a personal project for us, as it documents the places we've traveled to over the years, but also gives our honest opinions and advice for someone looking to plan their next adventure. As a couple, we've traveled to several different places, both in the U.S. and internationally (we have a goal to visit one new country a year) so we wanted a way to document where we've been. We hope to look back on this site years from now and relive the memories from our travels.
Milestones
We've saved the best for last! In October 2018, Mark quit his full time corporate job to work full time on our business. This was something we were planning on waiting to do until the end of the year, but with more clients and new work coming in, we pushed it up to October. The transition has been an adjustment, but Mark has really stepped up to the plate, taking on the roles of accounting, video editing, content creation and business development.
Another big milestone for us was being on the Elementor Talks podcast. We are huge fans of the Elementor page builder and the community of designers and developers that use it. With over 1 million installs, it's a big community. When they reached out to us asking for an interview, we were honored! You can listen to it here.
What's New For 2019
We have some big plans for 2019! We have some great projects lined up for the new year for some really amazing businesses. We can't wait to get started on them. You can also expect a lot of new content from us, on our blog, YouTube channel and social media platforms. We have series of videos and content in the works, so stay tuned!
We hope your holiday season is filled with fun and family and wish you a happy new year. Let's make 2019 the best year in business yet!