Win A Free Website From Wicky Design!
We're giving away a FREE website to one of our YouTube subscribers.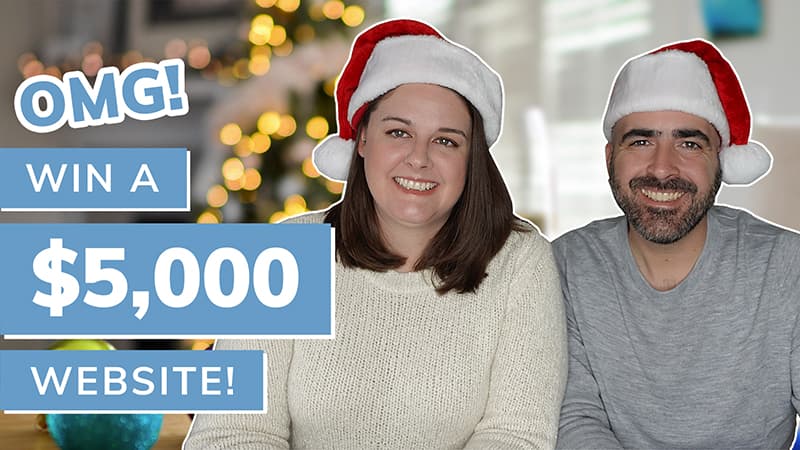 Step 1: Subscribe to our YouTube Channel
Make sure you are subscribed to the Wicky Design YouTube channel! It's FREE and filled with helpful resources and information. You must be subscribed to be eligible to win.
Step 2: Fill out the Entry Form
NO PURCHASE NECESSARY TO ENTER. A PURCHASE OR PAYMENT WILL NOT INCREASE YOUR CHANCES OF WINNING. VOID WHERE PROHIBITED.
YouTube is not a sponsor of this contest. You hereby release YouTube from any and all liability related to the giveaway.
Wicky Design, LLC is giving away a standard, 6-page website design to one of our YouTube subscribers worth $4,980.00 USD. For the avoidance of doubt, the $4,980.00 USD value will not in any way involve a cash payment. The total award will be made up of a finished 6-page website, and labor involved for an estimated suggested retail value of $4,980.00 USD. If the winner needs additional work or website functionality that goes outside of the standard, 6-page website design package won, they may use their winnings as a credit toward their projected total project cost. 
To be eligible to win the free website design entrant must:
To pick the winner of the free website design we will first select 3 finalists from the pool of current subscribers to Wicky Design's YouTube channel who subscribed to the channel between November 2, 2020 and December 31, 2020 and are over the age of 18. Because we will be filming an episode for Wicky Design's channel with the final winner we will first ask a series of questions to the finalists to better determine the feasibility of filming with them, and from there we will pick a final single winner from those 3 finalists, based on a number of factors including but not limited to, the creative potential of the website design, the creative potential of the episode and the feasibility of being able to a produce an episode for Wicky Design's YouTube Channel. If Wicky Design, LLC does not find a suitable winner in the first 3 finalists picked, the contest will be terminated.
Limit of one (1) entry per person during the Entry Period. DO NOT create multiple accounts to try to enter more than once. Entries that don't comply will be disqualified.
In addition to having an episode air on Wicky Design's YouTube channel, the winner also agrees to have their website displayed on the Wicky Design website (https://wickydesign.com) and on Wicky Design's social media channels.
The website design giveaway may be reported as income to a winner and the winner will be responsible for all taxes associated with the receipt of any giveaway. Winners may be required to complete required tax forms or other documents requested within the time period stipulated by Wicky Design, LLC. Winners will receive their giveaway within a mutually agreed upon date.
Wicky Design reserves the right, in their sole discretion, to modify, cancel, or suspend this giveaway should viruses, bugs, or other causes beyond Wicky Design's control corrupt the administration, security, or proper play of the giveaway, or for any reason that Wicky Design, LLC believes in good faith would be fair to the entrants and the conduct of the giveaway. In the event of cancellation or suspension, Wicky Design, LLC shall promptly post a notice on the Official Rules entry page to such effect.
The odds of winning will depend on the number of valid entries received during the entry period.
All users who enter the giveaway must comply with YouTube's Community Guidelines and YouTube's Terms of Service. All users/entries which don't comply will be disqualified.
By entering or accepting a prize in this giveaway, the winner agrees to be bound by these Official Rules and to conform to all federal, state, and local laws and regulations. The winner will be required to execute and return to Wicky Design, LLC. within five (5) business days an Affidavit of Eligibility and a Liability and Publicity Release (where imposing such condition is legal) and any additional documents required by Wicky Design, LLC. in connection with the possibility of receiving the giveaway prize. The winner may be required to furnish proof of identity, address, and birth date in order to receive a prize.
Privacy: Information submitted in connection with the giveaway will be treated in accordance with these Official Rules and Wicky Design, LLC's Privacy Policy (as may be amended from time to time), currently located at https://wickydesign.com/privacy/; provided that in the event of any conflict between these Official Rules and such Privacy Policy, the terms and conditions of these Official Rules shall prevail. 
Contact: Wicky Design, LLC 2093 Philadelphia Pike #4014 Claymont, Delaware 19703 United States
Wicky Design, LLC can modify these official rules in any way or at any time. Your continued participation in the giveaway means you agree with these changes. You may opt-out of the giveaway at any time by emailing info@wickydesign.com.
Failure to comply with any of the requirements set forth in the Official Rules may result in disqualification or forfeiture of the prize