We are really excited to announce that we are giving away free SEO tips every week. We want to share as much free information as possible to help small business owners grow their businesses online.
Use the link below to sign up for the newsletter:
Free SEO Tips Newsletter
Below is a list of the past 4 newsletters:
1 Simple Trick To Score Higher In PageSpeed Insights
I found a simple trick to increase your score in Google PageSpeed Insights. It's very important to score well in PageSpeed Insights because Google recently announced that site speed will be a core SEO ranking factor. I wrote a newsletter about this topic you can read more about here (It's Time To Take Your Website Speed Seriously).
One of the biggest changes to the scoring system is Largest Contentful Paint (LCP). This metric reports the render time of the largest image or text block visible within the viewport.
The easiest way to increase this score is to remove or push down any images you have loading "above the fold". I will show you a real-world example of how important LCP is to load times and scoring well.
Below is an example of a large "hero" image loading in the viewport on mobile. The score is 67 and taking 6.7s to load the LCP.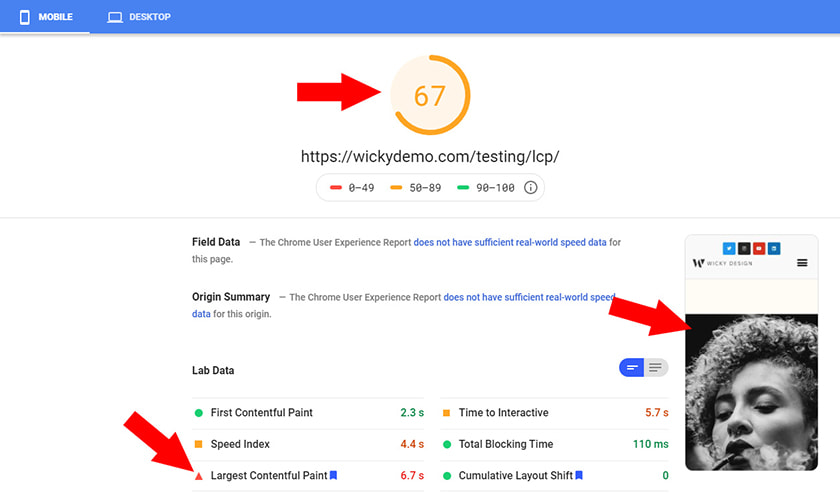 The good news is Google makes it easy to identify the LCP on the page so you can easily find it on your website. If you scroll down the page you will see the following tab called "Largest Contentful Paint element"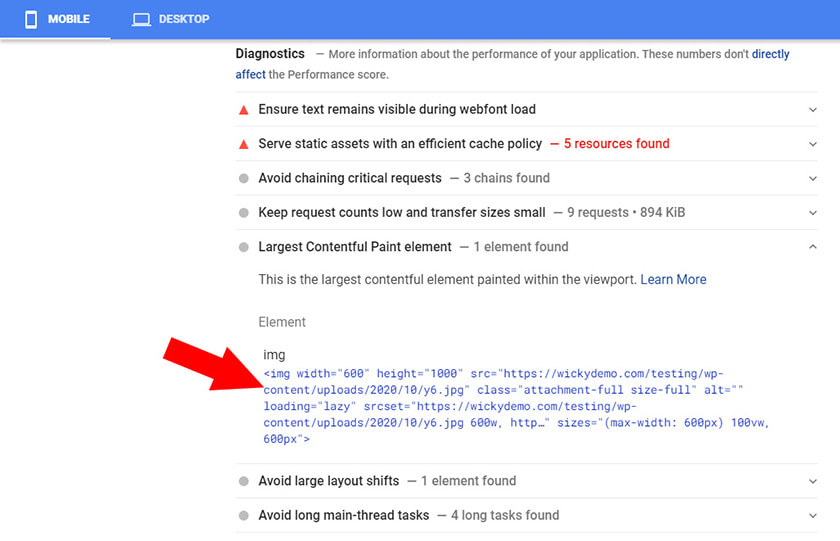 Now I will reverse the column order on mobile so the large image doesn't render when the user visits the page on mobile. Below is the result of me simply moving the image off the screen. We went from 67 to 93! Yes, this simple trick gained us 26 points! I couldn't believe it myself when I found this out a few months ago. This does mean that Google is changing the way it wants us to design for mobile devices but I feel like it's a good move because so many websites load huge sliders or images on mobile devices without thinking about the end user on a slower mobile device.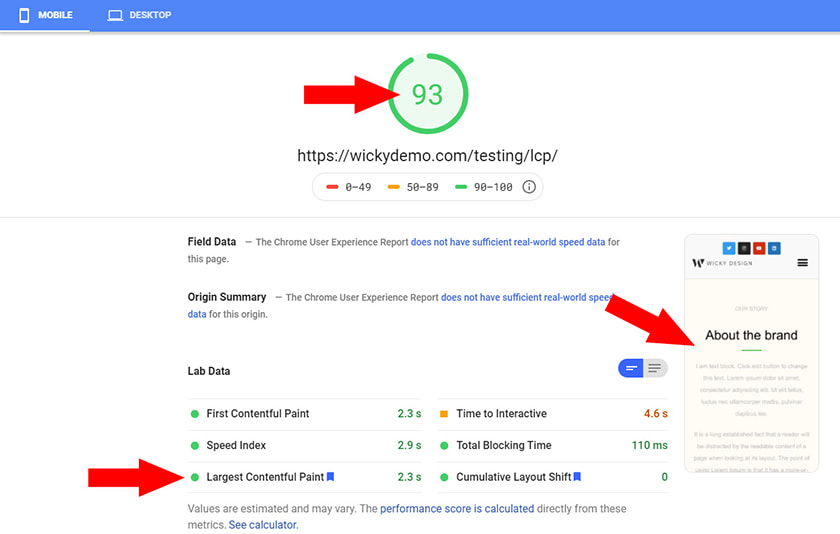 I would love to see your results! Please share with me your before and after scores using this simple trick. Email me mark@wickydesign.com.
How Descriptive URLs Help With SEO
Your page URL is important for search rankings. Why? Because it sends a signal to Google about the topic of the page.
It's always best to keep your URLs as descriptive as possible. Logical, readable URLs are better than long strings of letters or numbers.
For example:
https://yourdomain.com/vegan-skincare-products
…is better than
https://yourdomain.com/54321_1234.html
The first URL tells users (and Google) what the page is about. The second URL is a confusing string of numbers.
The more descriptive your URL is, the easier it is for Google to understand it. Take an audit of your website and see if there are opportunities to create more descriptive URLs.
A Breakdown of Headings and Page Structure
Page headings help break up your content and make it easier for Google to understand the structure of your page. Standard HTML headings go from H1 to H6, H1 being the most important heading on the page.
Structuring your content in an outline format makes it easier for Google to categorize it and also helps your readers easily scan a page to find what they are looking for.
Here's an example of a well-structured page.
H1: A Travel Guide to Iceland
H2: Attractions

H3: Reykjavik

H4: Hallgrímskirkja church – Reykjavik

H3: Blue Lagoon

H4: Blue Lagoon spa and restaurant

H3:Skogafoss Waterfall
H3: Reynisfjara Black Sand Beach
H3: Jökulsárlón Glacier Lagoon

H2: Hotels and Accommodations

H3: Hotel 1
H3: Hotel 2
H3: Airbnb 1

H2: Restaurants

H3: Casual restaurant
H3: Upscale restaurant
H3: Unique restaurant

H2: Conclusion
Following a structure similar to the above example makes it easy for Google to index your content and makes it easier for your readers. I highly recommend following this format when creating new posts or pages on your website.
An easy way to find internal linking opportunities
There are 2 types of hyperlinks:
External: Links that go to a different page outside of the domain
Internal: Links that go to another page of the same website or domain
Finding internal linking opportunities on your site can help with SEO because internal links increase the speed at which Google crawls your site and alerts Google to your most important pages.
To find internal linking opportunities, type this into Google:
site:yourdomain.com + "topic of the post you want to link to"
For example: site:wickydesign.com + "elementor tutorials"
Google will display all of the pages on your site where they think internal links for your searched topic could be added.
This trick will give you great insight when it comes to internal linking opportunities. Try it out this week!