The cost of a website in 2021 will greatly depend on your needs but expect to spend between $3,000 – $5,000 on average for a professionally designed website.
For the past 16 years, I've been making websites. A lot of things have changed over the years, but one thing that hasn't is people asking the question:
How much does it cost?
At Wicky Design, we try to keep it as easy and uncomplicated as possible, but the truth is, the cost of your website is really dependent on your business, what features you're looking for, and the type of functionality you're going to need. 
Long story short: The cost of a website is complicated.
Nowadays, there are so many different options to build a website. With so many different options comes a lot of confusion about pricing, what you're really getting for your money, and what it really costs to get the dream website that you're looking for. So I decided to do some research on some popular website platforms and break down the costs associated with each one of them. 
There are so many website platforms out there, but I'm just going to focus on these 4. 
Squarespace

Wix

Showit

And WordPress
I'll be breaking down the cost to DIY your website yourself as well as the average cost to hire a website designer to build you a completely custom website. Obviously, prices will vary depending on a lot of factors, so always do your research on the designer, agency, or platform you choose before committing to anything.
This post also assumes that you're starting from scratch. So you don't have a current website, blog, or even a domain name. So these are going to be the upfront costs to really get going. Ok, let's get started.
How Much Does A Website Cost In 2021?

| Website Platform | DIY Cost | Premium Templates | Professional Designer |
| --- | --- | --- | --- |
| Squarespace | $144/year | $28 – $700 | $3,000 – $5,000 |
| Wix | $170/year | $25 – $500 | $1,500 – $3,000 |
| Showit | $228/year | $200 – $1,000 | $4,000 – $6,000 |
How much does a Squarespace website cost?
First up is Squarespace. Squarespace has been around for a while now. They offer award-winning website templates that are easy to customize through their drag and drop builder. You can choose from a ton of different designs and they offer blogging and e-commerce capabilities.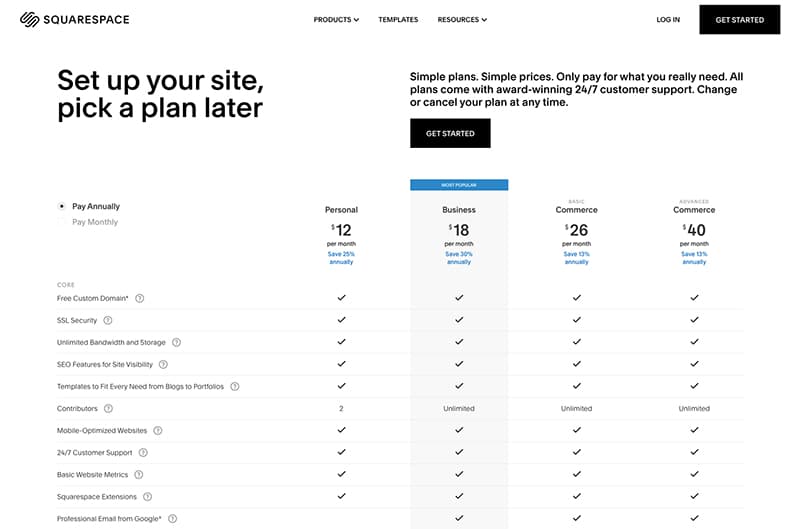 At the lowest end, Squarespace will cost you $12/month. If you need advanced e-commerce, you're looking at $40/month. 
With their plans, they include a free custom domain name for a year, unlimited bandwidth and storage, free SSL security, and Squarespace extensions.
If you want advanced features like e-commerce, marketing integrations, or the ability to customize your template with CSS or javascript, you will need to step up to at least the business plan, which is $18/month. 
Another nice thing is that these higher tier plans offer a free google workspace account so you can have a professional email. So like info@yourdomain.com instead of using a free email service like Gmail or Yahoo. That's a really nice added bonus.
Squarespace also claims they have award-winning customer support, which is nice if you do run into problems or have questions. They also have a resource area on their site with helpful guides, forums, and webinars to walk you through the process. I really like this feature because no matter how easy they claim it is to create a website, if you've never done this before, you're going to have questions. It's nice to have resources available if you need help.
The Cost to DIY a Squarespace Website
If you are looking to DIY and just need the most basic of websites, Squarespace can get you there for less than $150/year, but keep in mind that you won't be able to do customizations to make your site look unique and the functionality will be limited. 
Let's be real, if you're serious about starting a business, especially an online business, you're going to want something unique, so a $150 website is not going to cut it.
That's where things like premium templates or hiring a Squarespace web designer comes in.
How Much Do Squarespace Templates Cost?
There is really no shortage of premium SS templates for you to choose from. I've found ones for as low as $28 to as high as $700.
I'm assuming those more expensive ones have some different features available, but it is a template, meaning that your website layout will potentially look a lot like a bunch of other websites, but still an upgrade from a free Squarespace template.
How Much Does it Cost to Hire a Squarespace Designer?
If you're not interested in DIYing your site, there are plenty of great designers you can hire that specialize in this platform. Squarespace has a list of designers you can choose from on their website
Their rates greatly vary depending on knowledge and experience, but on average expect to pay between $3k – $5k for something that looks good and functions well. 
Squarespace Limitations
Because Squarespace is a closed platform, meaning you have to do everything within Squarespace, there are still limitations to what can be done, even if you hire a designer. 
For example, if you're running an online store, the only payment gateway options available are Stripe and Paypal. Both those services charge a fee per transaction, so added costs if you're accepting online payments. 
Those fees are pretty standard, but let's say you find a service that charges less in transaction fees than what Paypal or Stripe charges. If you're using Squarespace, you don't have the option to use that. So something to keep in mind because those transaction fees can really add up.
Overall, I think Squarespace is a decent platform that offers good value for the money. But if you want more custom functionality or integrations outside of the Squarespace box, it might not be the best platform for you.
How much does a Wix Website Cost?
Next up, we have Wix. Wix is similar to Squarespace in which they have a drag and drop builder that makes it pretty easy to create a website. They also offer over 800 templates to choose from, blog and e-commerce capabilities, and a free logo maker.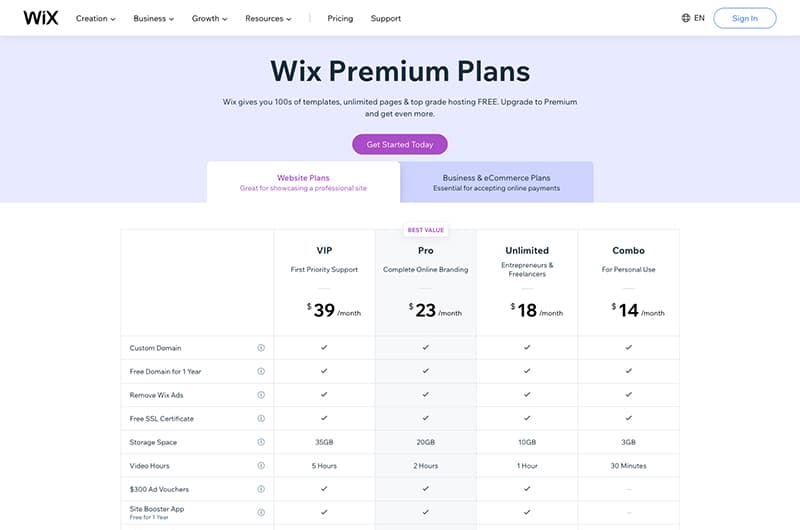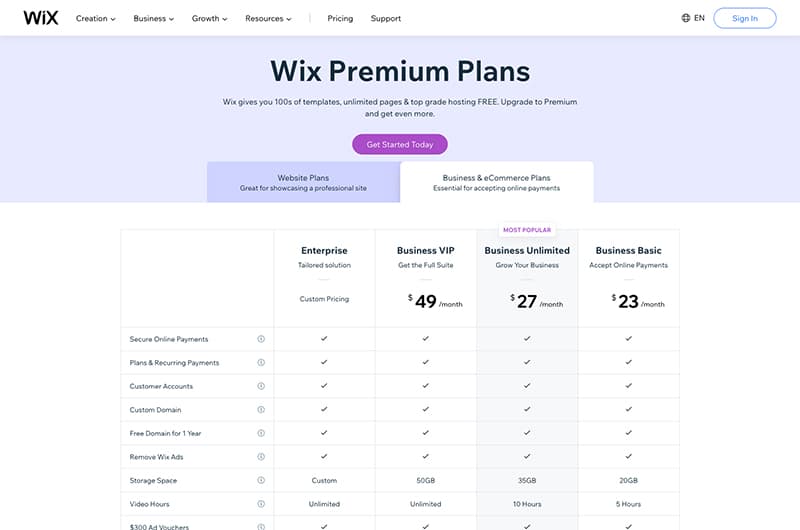 The Wix pricing structure is a lot more complicated. They have 4 tiers of what they call website plans starting at $14/month and going up to $39/month. They have entirely separate plans for business and e-commerce that start at $23/month and go up to Enterprise. Yikes.
Included in all tiers is a free domain name for a year and an SSL certificate. All e-commerce accounts include abandoned cart recovery and the higher tier plans offer subscriptions, something that Squarespace didn't mention on their site. 
While those things are all good benefits, there are honestly a lot of things I don't like about their pricing structure. 
Wix Limitations
The first thing is that they limit storage space. The highest tier plan only gives you 50GB. If you want to expand upon your site in the future, that's something you're going to have to worry about. Squarespace gives you unlimited storage and their plans are cheaper.
They also have limits to the number of hours you can stream video. Unless you have one of the top tier plans, you'll have to take that into consideration as well if you plan on using video on your site. 
They also limit what can be done with eCommerce depending on your plan and only offer VIP support to premium tier members, where SS offered their support to everyone no matter what plan they were on. They do have a support center on their website, but it didn't seem as robust as what Squarespace offered.
The Cost to DIY a Wix Website
If you go the DIY route, Wix will get you there for right under $170/year, but again, you're greatly limited in functionality and features because this is also a closed platform. And because they have a storage limit, the amount of pages or products you can add to your site is also limited. 
How Much Do Wix Website Templates Cost?
Just like Squarespace, you can find premium Wix templates for sale at a lot of different places. I've seen them for as low as $25 and as high as $500. 
How Much Does it Cost to Hire a Wix Designer?
There are a lot of designers that specialize in this platform which you can find through the Wix Marketplace. I found the rates to be much cheaper than Squarespace, some as low as $97 for a website, but let's just say, you get what you pay for. I wasn't that impressed with what I was seeing.
How much does a Showit Website Cost?
Next up, we have Showit. Showit has been around for a little while, but I feel like it's really gained some traction recently. And for good reason. It's a very powerful website builder and Showit sites look really nice.
Their editor lets you do pretty much whatever you want so you can create really cool designs without having to know how to code. Another really cool feature is that the platform integrates with WordPress. So if you wanted to have a blog on your website, you would have all of WordPress's great blogging and plugin capabilities, but the ability to easily customize the layout and design using the Showit platform.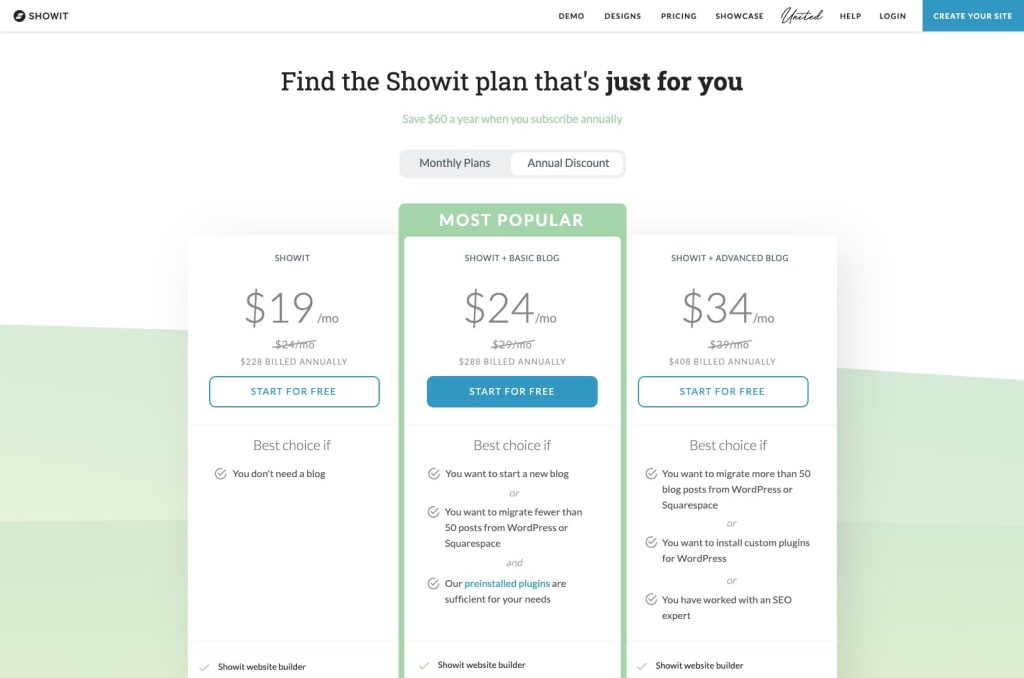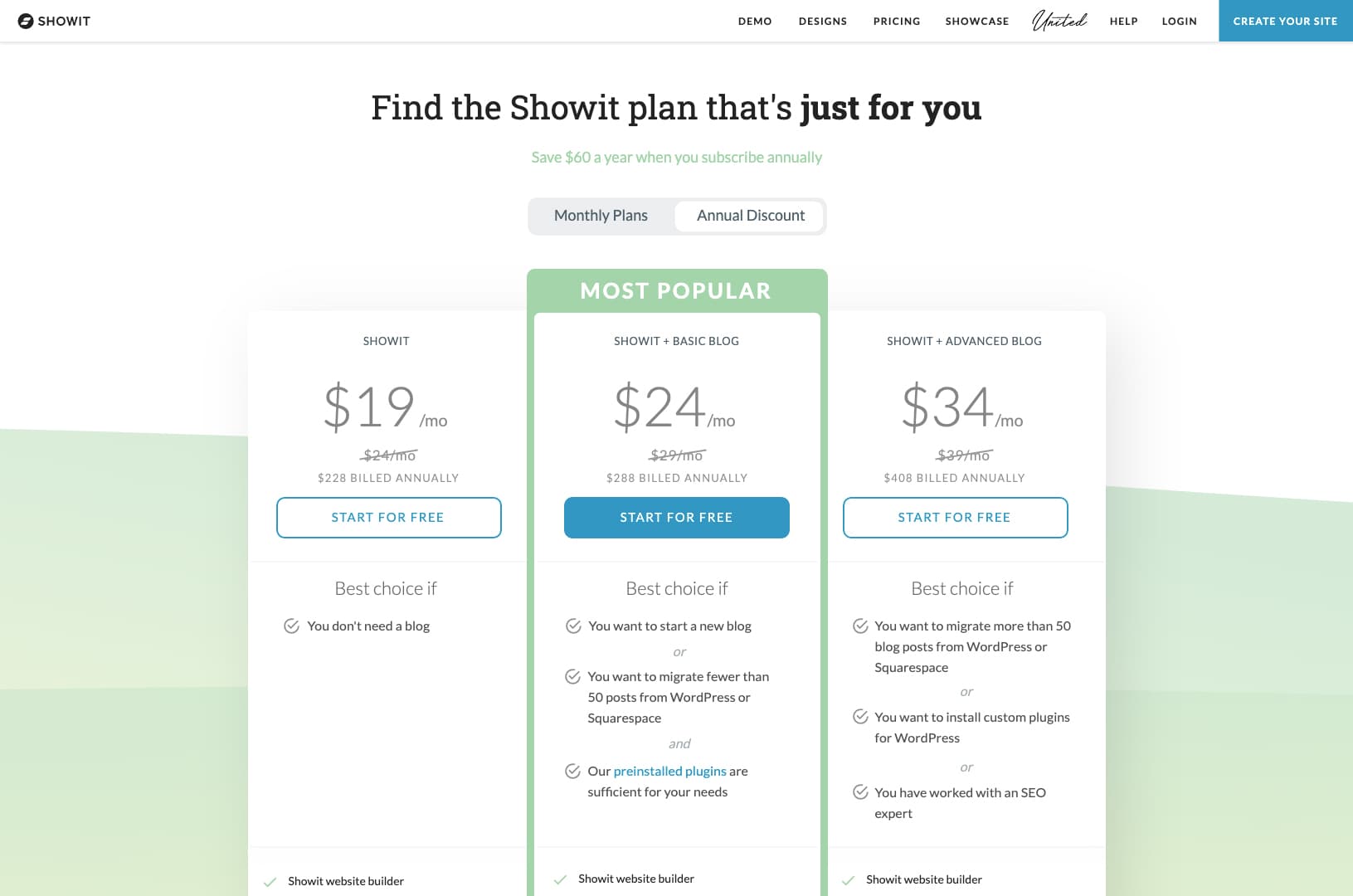 Showit is the most expensive choice of the 3 builders I've talked about so far. Their lowest tier plan is $19/month and that doesn't include a blog. The highest tier is $34/month and will allow you to have a WordPress blog with unlimited users and the ability to install WordPress plugins. 
Showit Limitations
Some cons that I see with Showit are that they limit your web hosting space to 20GB no matter what plan you choose. They also limit the number of blog visits you can receive a month. For these reasons, I wouldn't recommend Showit if you plan on doing a lot of blogging as it gets expensive really quickly. 
They also don't include a free domain name like the other 2 services, but those can be purchased for around $12 at places like GoDaddy or Namecheap, so not too much of an added cost.
Another big downfall of Showit is its e-commerce capabilities. I had to hunt for this information to see if they even offered it, which they do, but only through third-party sites that offer embedding options. 
If you wanted to sell products on a Showit site, you'd be required to pay for a subscription to one of these services, so another added cost on top of any transaction fees. 
Just like the other 2 platforms, Showit offers documentation on their website to help you if you have questions as well as a support center that lets you send a message to a specialist M-F between the hours of 3 am – 7 pm PST. Using this service, you should receive a response within a few hours.
The Cost to DIY a Showit Website
Showit offers a lot of really beautiful website templates to choose from. Honestly, I think they are the most high-end templates I've seen. Even the free templates look really nice. If you wanted to go the DIY route, with Showit, you could get a basic website for $228. But that wouldn't include a blog, you wouldn't be able to sell products. 
How Much Do Showit Website Templates Cost?
Some of the premium templates are over $1,000, but with Showit, you have the ability to customize everything about them, which I guess is worth the cost? 
How Much to Hire a Showit Web Designer?
Like the other platforms, Showit has a list of vetted designers you can choose from to build you a completely custom website. 
Expect to spend at least $4,000 for that, plus the monthly fee for the Showit platform. 
And the more traffic your site gets, the more you'll be spending since they limit the amount of traffic you can receive every month. 
How Much Does A WordPress Site Cost?
Last up, we have WordPress. I saved WordPress for last because, out of the 4 platforms, WordPress is definitely the most confusing. They've been around for a long time and a lot of people use their platform to build websites. 39% of websites on the internet use WP. That's a lot!
Like I mentioned before, WordPress is confusing. They don't make it really easy to figure out the best way to go.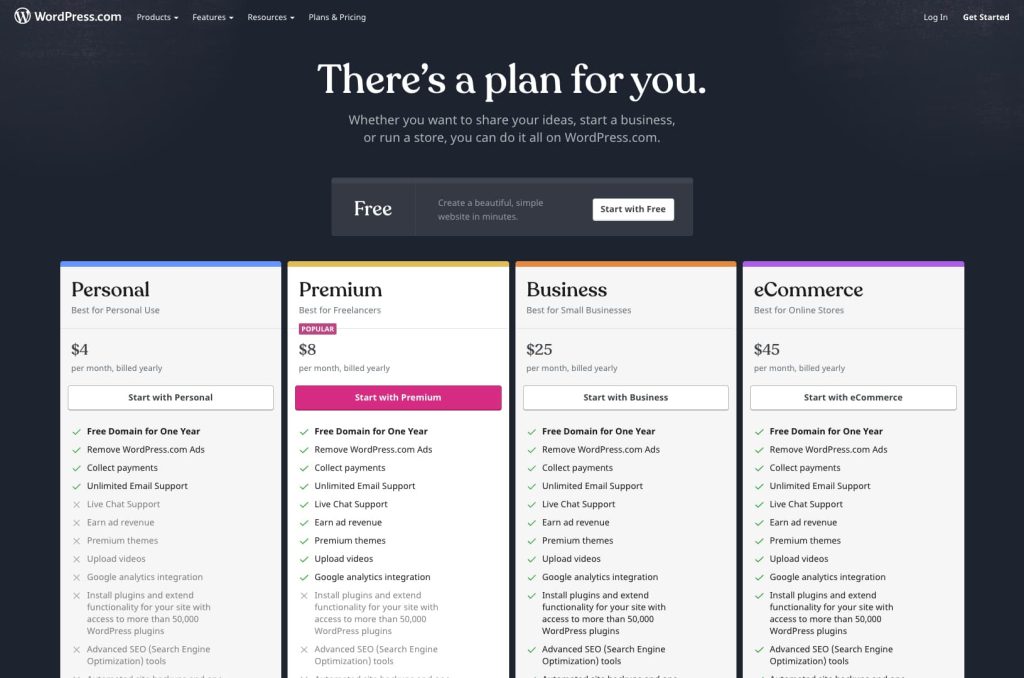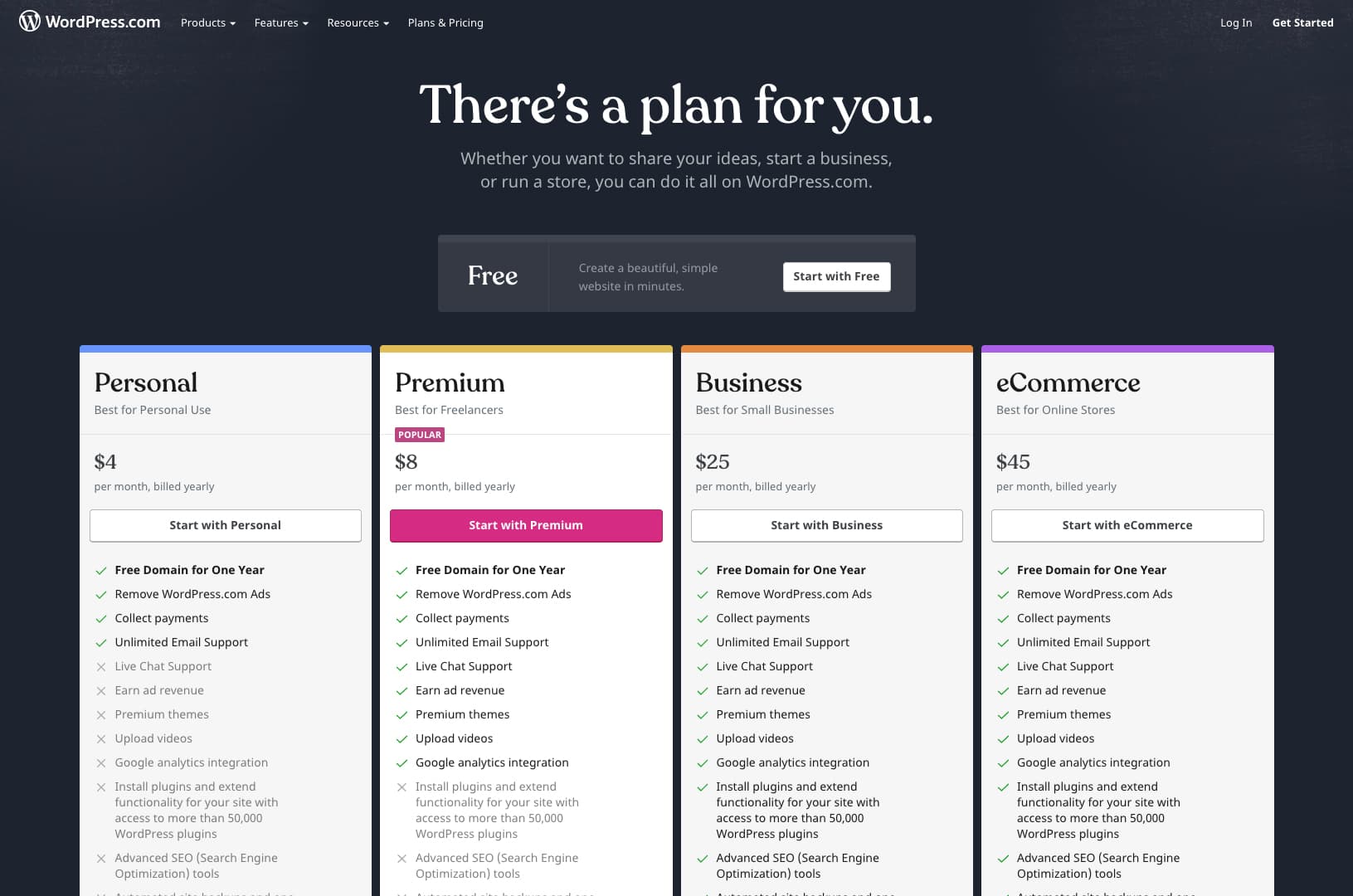 On WordPress.com, you'll see they have different plans that give you a bunch of different options, just like all the other platforms I've mentioned. The plans start at $4/month and go up to $45/month.
BUT…THERE'S ANOTHER WAY 
You can download and install the WordPress core framework for free by going to wordpress.org. This is the exact same framework but will let you expand your site however you want without a monthly cost to WordPress. 
In order to get this to work, you'll need to:
Purchase a domain name. You can do this at places like GoDaddy or Namecheap for around $10 on average.

Purchase website hosting. There are a lot of places that offer WordPress hosting and the cost really depends on what you get, but on average, I found that WordPress hosting costs less than a subscription to SS, Wix, or Showit. And you get more.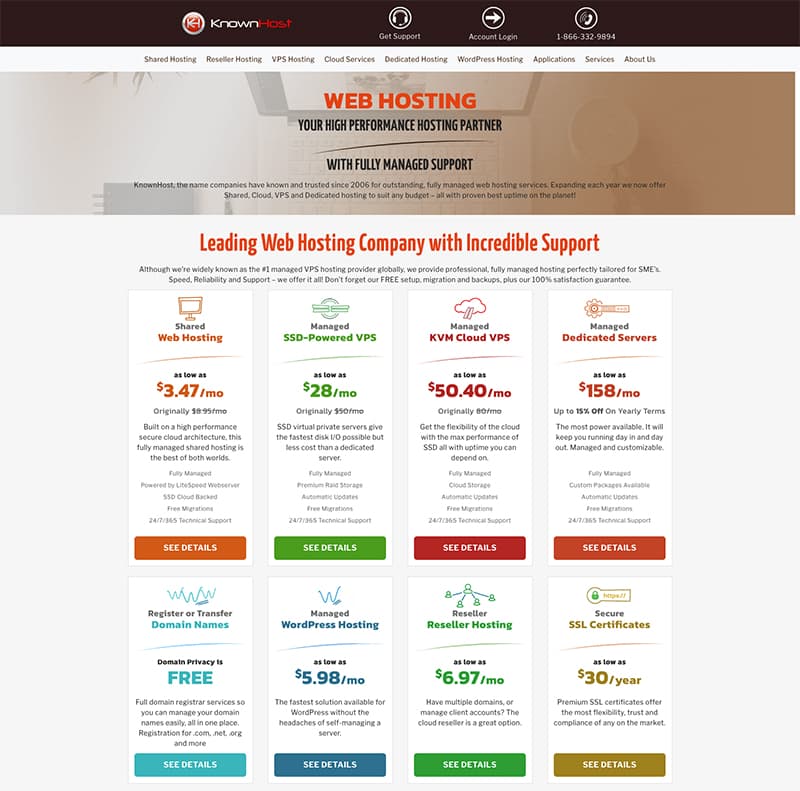 You'll need to install the WP core framework to your server. You can follow their 5-minute installation tutorial, but many hosting companies can get WordPress up and running for you easily, so you won't have to do anything.
KnownHost (Affiliate Link):
https://www.knownhost.com/?aid=71319c26
WordPress Limitations
From here, you'll have the freedom to do whatever you want to your website. WordPress is an open-source platform, meaning you're not stuck in a box. As your business grows and changes, your website can grow and change too. 
Another awesome advantage that WordPress has over any closed platform builder is that you can move your website. Need to upgrade to a better server? Found a cheaper alternative that will save your business money? You can download your entire website and move it to wherever you want. You own everything.
How Much Does a WordPress Theme Cost?
Like the other platforms I've mentioned, WordPress has both free and premium themes available that you can use to get your website up and running. And like the others, the cost varies depending on what you want. You could get an inexpensive theme for $25 or something more robust for hundreds of dollars. It really depends on the functionality that the developer includes within the theme.
How Much Does It Cost to Hire a WordPress Designer?
Millions of people specialize in WordPress website design, so finding the right designer to build you that dream website won't be a problem. If you're currently looking, I know someone that can help. 🙂
Is WordPress Hard to Use?
Now, you might be thinking, I've heard WP is really hard to use. I want something easy! I don't want to learn how to code!
That's where the page builder comes in.
WordPress page builders give you that drag and drop functionality that has made these other platforms so popular, while still having the freedom of an open-source platform. Our favorite, and the one we use for all of our design projects, is Elementor. 
WordPress E-Commerce Solutions
WordPress offers really robust e-commerce solutions as well. Through their WooCommerce extension, you can set up a simple online store, or take it to the next level through subscriptions, memberships, or even online learning platforms. The possibilities are endless!
The Cost to DIY a WordPress Site
Since the possibilities are endless, the costs for WordPress sites vary greatly, but let me try to break it down. For the DIY route:
Let's say your domain costs you $12/year

Your hosting is $6/month or $72/year

You install a free theme and purchase Elementor Pro for the drag and drop functionality for $49/year
All in, you're looking at $133.
How Much Does it Cost to Hire a WordPress Designer?
If you're looking to hire a designer, the cost to hire a WordPress designer will vary greatly. Both novice and experienced designers are using WordPress to build websites. And since you're dealing with an open-source platform, every designer does it a little differently. 
Some designers will make it so that you can't update your website, while others, like us, hand over the designs they create to their clients, giving you the ability to manage your website yourself by using a page builder platform like Elementor. 
This might mean a higher upfront cost, but down the line, not having to rely on a developer to make small changes will save you money. 
Expect to spend between $5k – $7k for a high-quality custom WordPress website.
This price is higher than others, but you don't have limitations to what you can do down the road and you're not paying high monthly fees just to have your website.
What I find happens a lot is a lot of business owners will start off using one of the above platforms, realize they need added functionality, and end up rebuilding their site using WordPress. So it's really important to take into consideration all the things you want your website to do, if not now, but in the future. 
Which Platform will you Choose to Build your Site?
I hope it cleared up some of the confusion about different website platforms and gave you a better idea of how much you can expect to invest in a website design. If you're looking for a custom WordPress website for your business, let's chat!