Should I build my website on WordPress or Wix? This is a question that you may be asking yourself when you ready to build your website.
We'll go over the pros and cons of each platform and why we prefer using WordPress for website development.
Open Source
This is our #1 reason we can't recommend Wix over WordPress. If you're not familiar with open-source, it means that all the code can be viewed and modified by anyone. WordPress is an open source where Wix is a closed platform.
Wix has been adding open-source functionality through its system called Corvid. While this is a good first step toward open-source it's still not 100% open-source. You still have to host and rely on Wix's servers to run your website.
Open-source is starting to become mainstream even with massive corporations like Microsoft. If a tech/software company isn't investing in open-source technology they won't survive for much longer. Consumers want transparency and control over their data and privacy.
Hosting
Another huge advantage to WordPress is being able to self host your website. This means you have 100% control of where your website "lives". When you go with a closed platform like Wix you won't have any control over your hosting environment.
We can never recommend hosting on a closed platform or shared hosting plan because of this reason.
Ownership
When you have a website on Wix you won't have complete ownership of your website. At any moment Wix can suspend or shut down your account and you will lose everything! This is a really scary thought if your website is generating you money. You need to be on a platform that allows you to do full backups and have full access to all your files.
When you're on an open-source platform like WordPress you can easily save your website and database in a single zip file. With a full backup of your website, you can easily store it in cold storage like a thumb drive and put it into your safe at home. We recommend to always do daily backups of your WordPress websites. There are great plugins that allow you to do this or you can do it through your hosting platform.
Shared IP
Here's something that most people don't know about Wix. Currently, all websites hosted on Wix are assigned the same IP address. As of writing this article, there are currently 5,311,783 websites being hosted on the following IP address (23.236.62.147). This is a huge problem in my opinion, due to the fact that all it takes is one website out of the 5+ million to cause problems. Since Wix is a closed platform this is mainly a problem if one of those websites has adult content. If you do a quick reverse IP lookup on this IP address you will, in fact, find that this server is hosting adult content (https://dnslytics.com/ip/23.236.62.147). This is a huge problem because internet providers or firewalls will ban IP addresses that host adult content. So it's possible that your website can't be viewed by some users because of adult content on this shared IP address.
FYI: Currently Wix doesn't offer a service to allow for dedicated IP addresses.
Ease of Use
I'll be 100% honest with you that most of these Wix commercials you see on TV are very misleading. They will show you how easy it is to make a professional website in minutes. Let me show you show a real example, below is a Wix website for the comedian Jay Pharoah. I saw this TV commercial for Wix and he showed "how easy it is to create a website".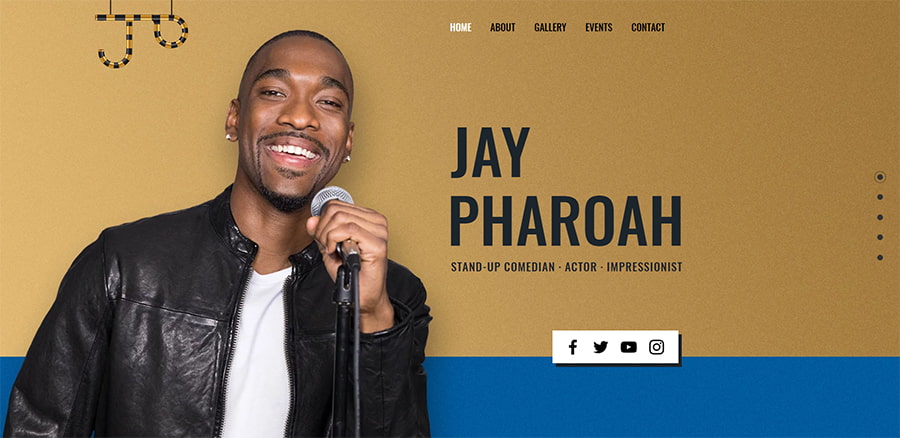 This simple layout is actually difficult to achieve. It requires you to have a professional photo to be taken, cut out the background and size it so it fits perfectly within the browser height dimensions. This requires a professional photographer and designer to make it work correctly.
When I see a commercial like this it concerns me because they are misleading people by thinking that web design is something that you can just instantly learn and that Wix can make you a custom professional website in minutes. The truth is these Wix commercials are showing you custom websites designed by professionals, not the common users they are trying to target.
Conclusion
Wix can get your website up and running quickly but the second you need to expand beyond their templated system and want a more customized design you will need to move to a platform like WordPress or hire a professional. So, for this reason, we can't ever recommend using Wix because it's not future proof. At any moment Wix can close its doors or get bought by a larger company and your whole website business will be in control of another company.