You might not know this, but your Google business reviews play a large part in your business's local SEO. Without spending a dime you can easily get a big credibility boost from Google with your business reviews.
Keywords in reviews
In fact, Google is now using keywords in reviews as a ranking factor. See the example below, if you do a Google search for "Philadelphia Lawyer" you can see that Google is pulling the keyword "lawyer" from a Google review!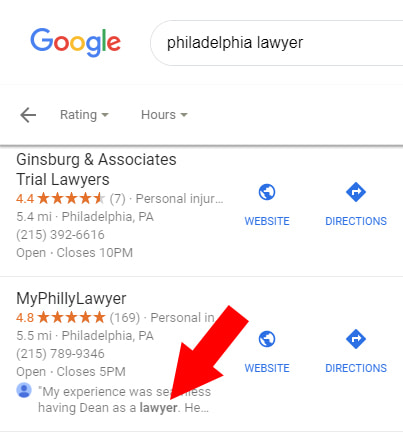 Here's another example of a Google search for "sushi near me". As you can see Google loves to read your reviews and will use them as a ranking factor.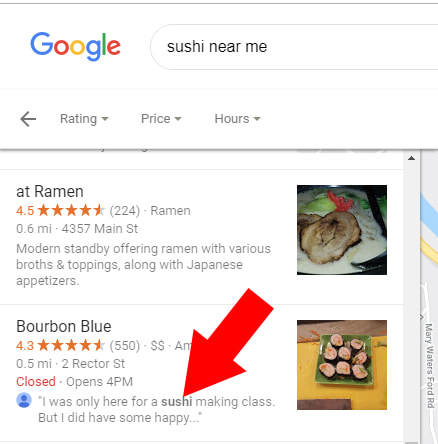 Note: Google can also pull keywords from your website content and GMB posts and display them in local search results.
Local SEO ranking factors
Now that Google+ is gone, Google reviews are becoming a more significant ranking factor for SEO. Every year Moz puts together a local search ranking factors report. It's a great report to read and stay current if you want to understand how local search rankings work. Below is a graph showing how important your review signals are to ranking in the local pack.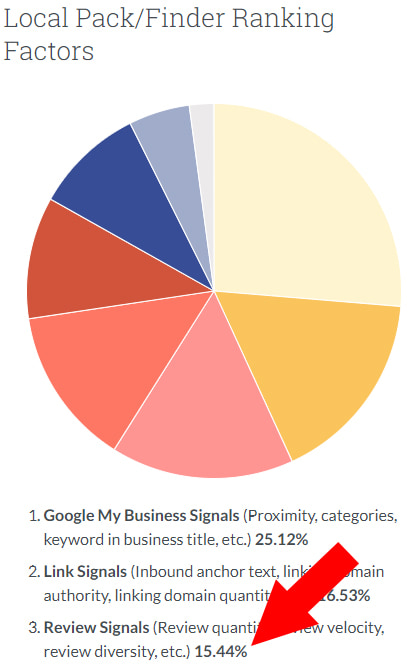 As you can see your reviews signals can be as high of 15.44%. So it's safe to say that you need to focus some time on your Google reviews.
How to get google reviews
Great news! Google recently made this process much easier. Now from your Google My Business dashboard, you can enable a custom short name URL for your business reviews.
Below is an example of our short URL:
https://g.page/wickydesign/review
This makes it really easy to share this URL with clients. You can include this link on multiple platforms like email signatures, social media, and your website.
In conclusion, Google reviews carry a lot of weight when it comes to SEO. Not only in search rankings, but with your overall branding and online reputation. It's important to remember always respond to your reviews in a professional manner, keep it short and don't be a salesperson.
Want to Know Other Key SEO Factors?
Get your website evaluated for 50+ key search metrics and know exactly what steps you need to take to get your site ranking high on Google.