If you're here, I take it your business has a fake review and you want it removed. In this article, I will give you the best options to get that fake review removed from your account.
Why reviews matter
Reviews are an important SEO factor, especially for local search. The more reviews your business has, the better it will do in search rankings.
Looking for more SEO tips? Be sure to sign up for our SEO Audit. Get a detailed report to see where you rank for 50+ key SEO metrics.
Why did I get a fake review?
Due to the fact that reviews help with SEO, Google currently has a major problem staying ahead of scammers on their platform.
There are 2 reasons that you might have gotten a fake review.
It's possible that a competitor in your market is threatened by your business and they have purchased fake reviews to try and push your business listing down in Google search results. Unfortunately, this practice is becoming more and more common among businesses trying to gain an edge over their competitors in SEO rankings.
Another business in your area has purchased a fake review and has randomly selecting other local businesses to review in order to "fool" Google that it's a real review. Unfortunately, this has happened to us. Although we've made several attempts to have Google remove the review, we haven't been successful because Google says they are unable to determine that the reviewer is actually a fake person.
Below is an example of a real website that lets you purchase fake Google Reviews. Of course, this should go without saying, but don't ever buy fake reviews!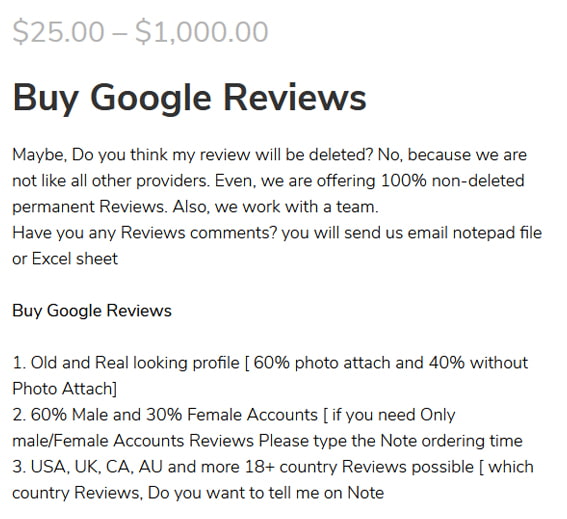 Now that you understand why/how you received a fake review let's talk about how you can hopefully get them removed.
Respond to the Review
The very first thing you need to do is respond to the fake review in a professional manner. Yes, this doesn't make much sense because you know for a fact that this person is fake. This step is very important because it will help with your local search ranking and will show that you take customer service seriously.
Below is an example of how we responded to our fake review. We addressed him directly in a professional manner and stated he was never a client of ours.

Flag the Review
The first thing you should do is flag the review in your Google My Business dashboard. This will start the process and is needed before you continue with other methods. Follow the steps below, but be patient. It might take a few days to receive a response.
Step 1: Login to your Google My Business account.
Step 2: Click the Reviews tab from the left menu.
Step 3: Find the fake review and click the 3 dots menu on the review and click the "Flag as inappropriate" button.

Step 4: Complete the Report a policy violation form and click submit.
After you complete these steps, wait a few days and check your reviews again. If you noticed that the fake review hasn't been removed continue with the method.
Contact Google Directly
After you have flagged the fake review and waited a few days. I recommend the next thing you do is reach out to Google directly to see why they haven't removed the fake review. Follow the steps below to either call, chat or email Google:
Step 1: Go to this URL while logged into your Google account (https://support.google.com/business/community).
Step 2: Click the "Contact Us" button under your profile image.
Step 3: Click "Customer reviews and photos".
Step 4: Click "Manage customer reviews".
Step 5: From here you can select either Request callback, Request chat, or Email support.
If you prefer, you can direct message Google My Business through either their Facebook or Twitter social media accounts
Legal Removal Requests
If the fake review clearly states something that can be considered illegal, you should report it to Google through the link below. I haven't gone through this process before, so I'm not sure about how quickly they will respond.
https://support.google.com/legal/answer/3110420?hl=en
The last step to do if Google won't remove a review that you know is illegal is to reach out to the person directly and ask them to remove it or you will seek legal action.
In conclusion often times Google won't remove a fake review because they can't verify that the person isn't real without spending a lot of time and resources. Since Google doesn't want to get involved in personal disputes, they will only remove fake reviews if they see a repeated pattern with the reviews or there's a clear legal reason to remove the fake review. If you received a fake review, I hope this gave you some guidance on what you can do to try and get it removed.
Be sure to sign up for our SEO Audit to learn how your business ranks for 50+ key SEO metrics.
Save to Pinterest