SEO. You've heard the term before, but my guess is that you're probably confused about what it is.
There is really no way to sugar coat it, so I won't. The term SEO is a huge mess! If you ask 10 people the question, "What is SEO?" you will get 10 different answers.
Why is SEO So Confusing?
Again, there is no point in sugar coating this. The SEO industry is filled with scammers and people who are only in it for money. They prey off people that don't understand SEO, lock them into a monthly contract, and milk them for as much money as they can.
These companies promise the world, but deliver little to no results. Often, people that fall for these scams have no idea what the company is doing for them. They promise first page rankings and so many leads your phone will be ringing off the hook, but if you try to ask what they actually do to get you that, they say something like, "it's a trade secret."
Warning: No one can guarantee you first page rankings. If a company makes that promise, run away!
I've seen this happen to tons of companies and I want to help educate my clients on SEO so they don't get burned by these scam SEO companies.
How SEO Works in 2019
It's 2019 and the way Google works is totally different than just a few years ago. Focusing on position #1 in organic search isn't the "end game" anymore. Take a look at the image below, you now to scroll down to the bottom of the page just to see organic search results for competitive keywords.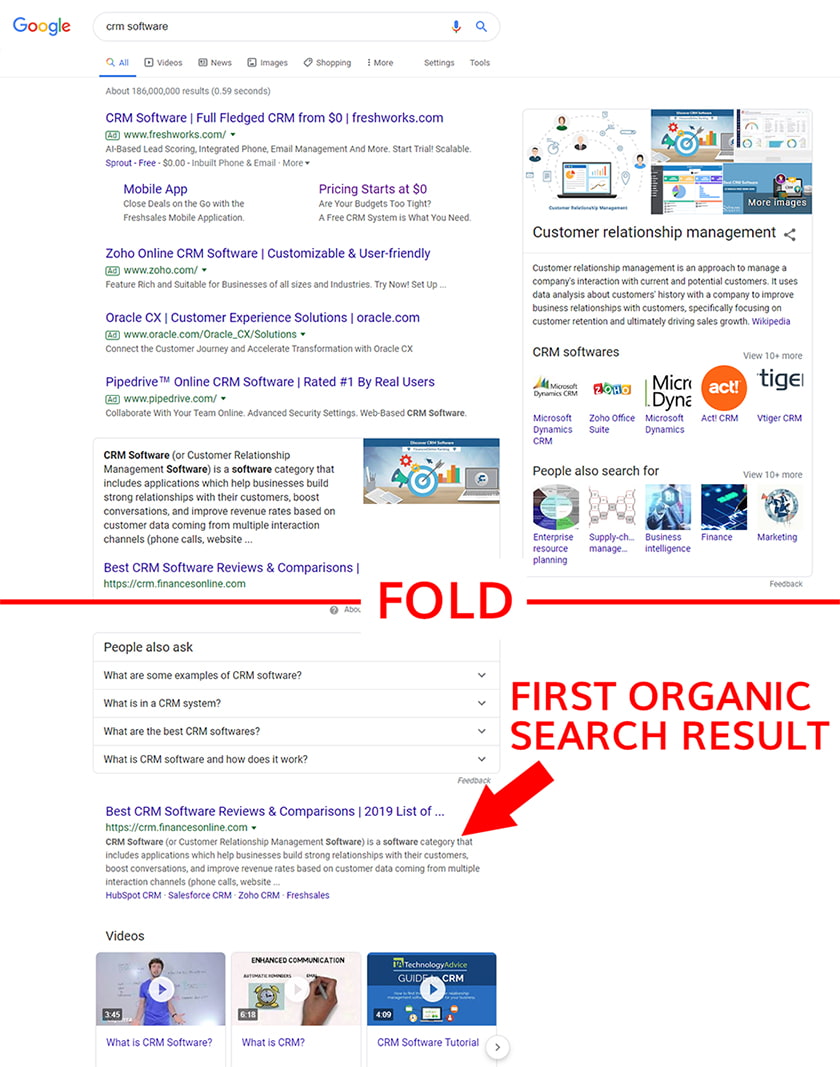 Google is moving into the pay-to-play environment. You will be buried by Ads, featured snippets, video results, map packs etc… for competitive keywords. Don't think for a second that Google isn't going to look totally different in a few years. I see a future where organic search results won't even show up on page #1. You have to either pay real money to rank or you will need to get creative and post your content in multiple places.
Common Misconceptions About SEO
Before we dive into what SEO is, let's talk about what it isn't
SEO Isn't Installing Yoast
"I installed Yoast, that's SEO, right?"
I can't tell you how many times I've heard people say this.
Yoast has done a great job at marketing. They have people believe that if you install Yoast you will automatically rank in Google without doing any work. Yoast is just a tool to make it easier to create things like custom meta titles and sitemaps. This is just a very small part of SEO. Don't think that just by installing the plugin that Google will give you any extra ranking power.
SEO Isn't Keyword Research
You won't hear this very often because tons of companies are offering this service, but keyword research is nothing but a waste of time! I believe this to be true because we have never wasted time on keyword research and we rank very well. You will waste tons of time trying to find that perfect keyword phrase to only realize that the keyword tools are spitting out completely outdated or simply wrong information.
Instead of doing old-school keyword research you need to focus your time on topic research. You need to write useful content that people will share and engage with. The time you waste on keyword research you could have done important topic research instead. The future of SEO is not in keyword research.
SEO Isn't Only On-Page
Do you need to still focus on On-Page SEO? Yes, but it's become less and less important to Google. You can have the most optimized website in the world but if don't have useful and valuable content you won't rank. The goal with On-Page SEO is to help the end user not Google's algorithm. I don't know about you, but I can better understand human beings intent over some complex computer algorithm. If you write like a robot you will get robot results! Write for human beings and you will make real engagements.
SEO Isn't Fast
There's still this myth out there that if you hire the right person or company they can magically rank your website for any keyword fast. The only way this can work is if you do black hat SEO techniques. Some people are willing to take the risk in order to rank fast, but personally, I don't think it's worth it.
SEO takes a long time to work. In most cases you won't see real results for months or even years. For example, when we moved from Tampa to Philadelphia we had to start from scratch on the local search results. It took us around 10 months to start seeing some real results in the local searches. If you want to be truly successful, you have to play the long game.
So What Is SEO Then?
Now that we went over what SEO isn't, let's talk about what SEO actually is.
To me, SEO is simple. It's making sure your website is technically setup on both the back and front end so search engines can crawl your pages without any problems. That's it!
Once you have a good SEO foundation setup on your website you're done thinking about SEO for awhile. This is why we don't believe in offering monthly SEO services because there is nothing else to do to your website once you're setup correctly. After your website has been optimized, it's now time to invest in creating content and work on a marketing strategy. If you invest in creating great, valuable content, you will start to see results in rankings.
It's About Trust
Google ranks pages that are trusted and valuable, which means you have to earn Google's trust. Think of Google as a person, She has been through a lot of bad relationships with people and always has her guard up. You have to get to know each other before you can take her out for dinner. Don't rush this relationship!
Learn How Your Website Can Rank Better With Our SEO Audit
Our custom SEO audit will help you better understand where your website might need some work in order for the search engines to crawl your pages correctly. We go over 50+ key ranking factors to help you understand what to do in order to rank better. Audits are custom to your website and include a video screen share!
Sign up now and start ranking better
Conclusion
You have to think about SEO totally different these days. You simply can't just install Yoast, place keywords on a page and expect to rank anymore. If you aren't thinking outside the "I need to rank #1" mindset, you will be left in the dust. Content is king and Google cares more about the value you bring to users than ever before.
At some point, what you heard about SEO was probably right, but the industry moves really fast and things get outdated quickly. My goal with this article was not to bash the SEO industry, but to help educate business owners so they can make informed decisions. I hope this post helped give you a better understanding of what SEO actually is.
Save to Pinterest