What are featured snippets?
Before I begin on how to get a featured snippet on Google, I will first explain what a featured snippet is to those that might not exactly understand what a featured snippet is on Google.
Let's take an example of a featured snippet that we rank for. If you do a Google search for 'How to add custom emails to your Gmail inbox" you will see that we have the featured snippet for that phrase. This blog post is one of our most popular pages on our website.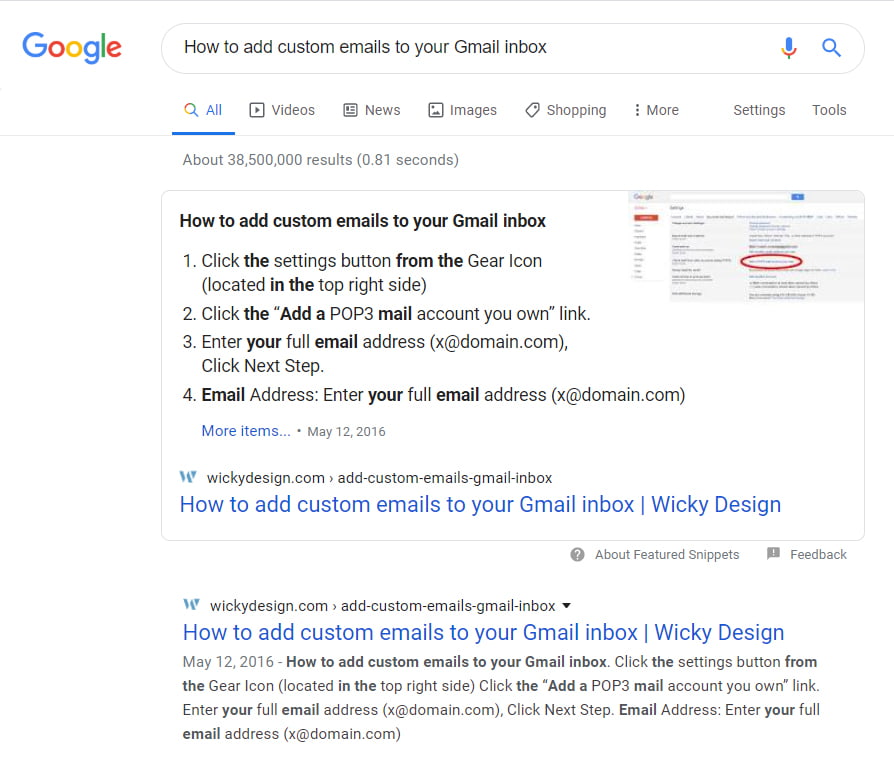 As you can see having a featured snippet can draw extra attention to your content in the search results. Some people like to call this "position 0"because it shows up before the first organic search result.
Here's another example of a popular featured snippet that we have earned. Do a Google search for "Why Pinterest Monthly Views Don't Matter" and you will see the following results. Notice that we rank on the page in 3 different areas. This was done by just creating a detailed blog post and having an embedded YouTube video.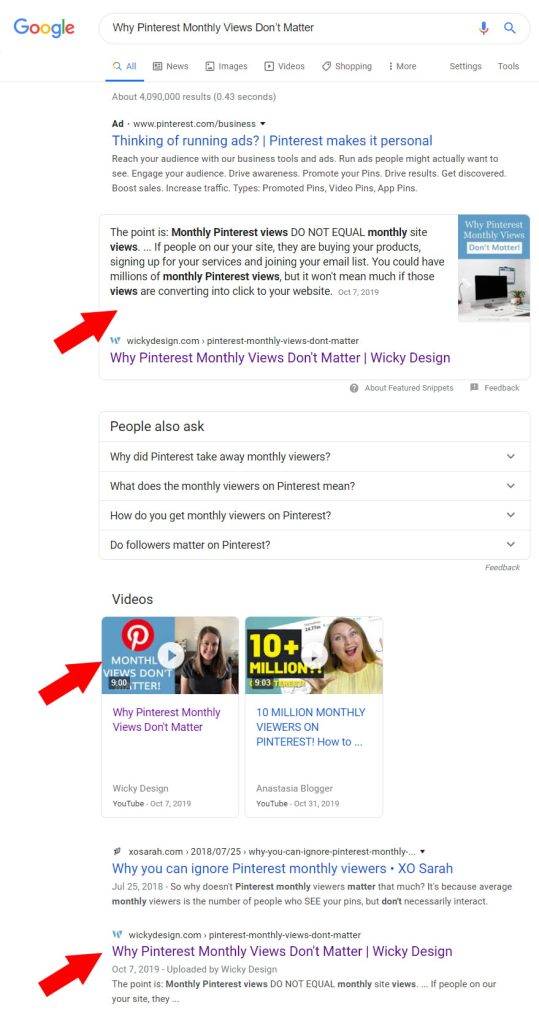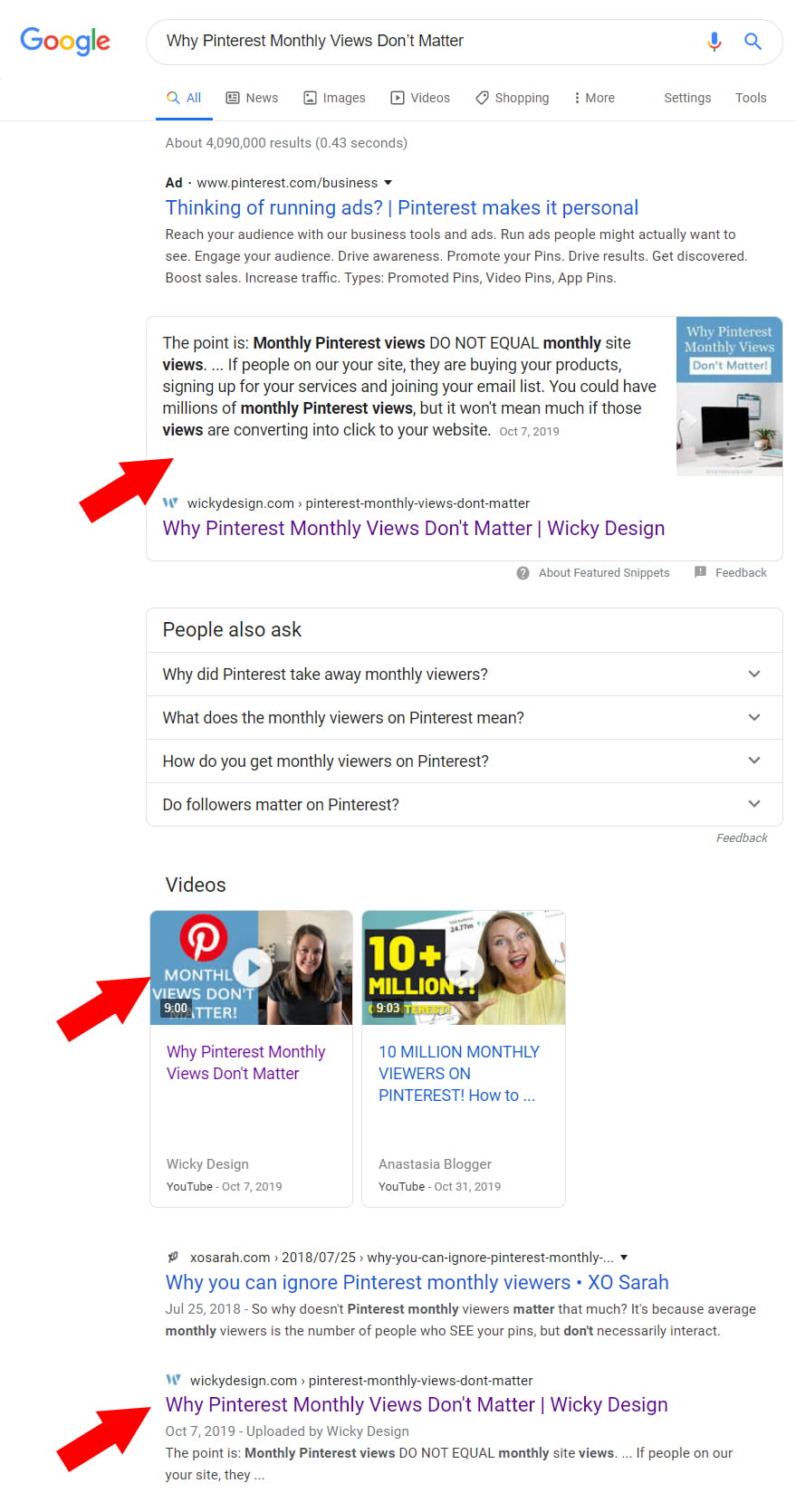 FYI: When someone does a voice search for a question, oftentimes the featured snippet will be what is read back to the user. So it's now important to think about voice search when creating your website content.
How to get a featured snippet?
Okay now let's down to why you're here! How the heck do I get one of those featured snippets in Google?
Answer: Create helpful & detailed content that shows you're clearly an expert on that given subject.
Yes, I know that's a generic answer to a complex question, but it's really that simple. Let me explain.
Take for example the featured snippet for "How to add custom emails to your Gmail inbox". When I created this blog post, I didn't know anything about featured snippets and didn't even think about keyword research or optimizing the content for "SEO". All I did was create an article that I knew would help people. I wrote this blog article 4 years and it's still one of the most popular blog posts.
About 2 years ago I found out that we earned the featured snippet for this blog article and since then I've learned a lot about what it takes to earn featured snippets. In the next section, I will give you some tips on how to "optimize" for featured snippets.
Tips on how to get a featured snippet
I'll let you in on a secret, there's NO magic SEO dust that you can just sprinkle on your webpage to earn a featured snippet. I can honestly say that earning a featured snippet is more luck than anything else. There are only a few key things that are required for featured snippets:
Your page needs to rank high in organic search. In most cases featured snippets are only earned if you have page #1 rankings already. If you're on page #10 you will never have a featured snippet. You have to be realistic about this before you even start writing content.
Your content needs to be structured in clean HTML format. Use header tags (h1, h2, h3, etc.) for your titles and use thetag for the content/answers. Make sure that you are consistent with this format.
Use numbering or list for complex answers. In a lot of cases, Google doesn't always pull a whole paragraph of text, instead, they might only pull a list of items you wrote about.
Use SEO best practices. It should go without saying, don't try to "outsmart Google" by keyword stuffing or using any black hat techniques. Always play the long game and keep wearing that white hat!
Can you steal a featured snippet?
Yes, any featured snippet can be "beat" if Google decides there's a better alternative. Take a look at the example below. This is a featured snippet we earned with our travel blog Must Love Traveling. The Google search term "10 Unique Places to Visit in Tampa" shows our article in the featured snippet, but I've noticed Google doesn't always show our article. It sometimes will show an alternative article from the page #1 results. This means Google is testing different results at random times.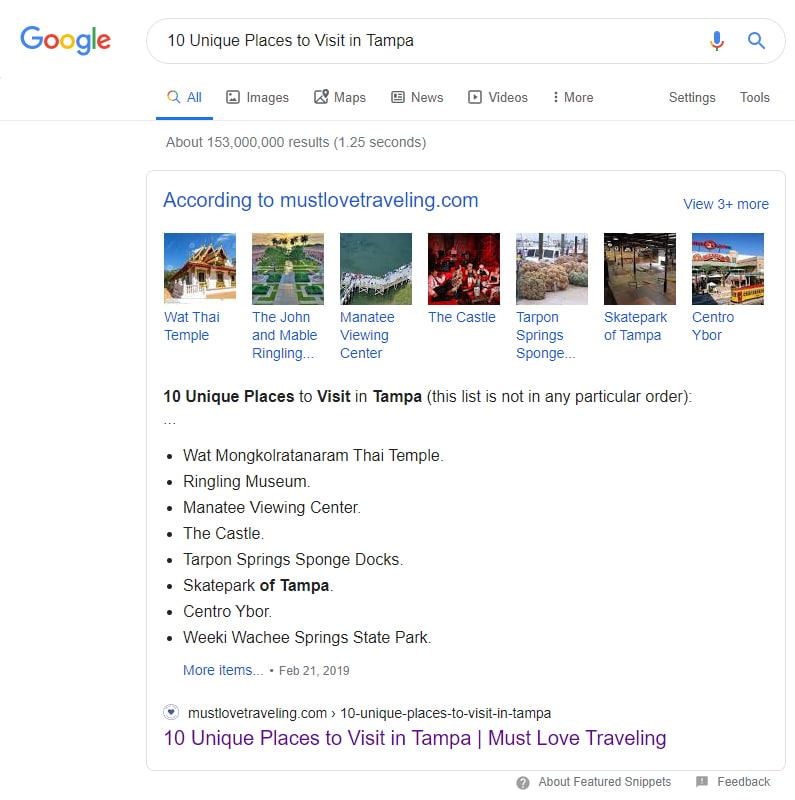 Stealing a featured snippet isn't that big of a challenge if you know you can create a better article. In most cases, if you know you can rank page #1 for a search term and you create a better/longer/newer article that's more helpful to the end-user, Google just might reward you with the featured snippet. It's fun knowing that at anytime you can win and lose featured snippets. If I lose one of our featured snippets I won't lose any sleep over it because it means my article is dated and needs an update.
At the end of the day, don't overthink featured snippets and just have fun when you are creating content.
For example, will I earn the featured snippet for the phrase "How to get a featured snippet on Google?" with this article? Most likely not, I would have to beat out Neil Patel because he currently has the featured snippet. But I wanted to create this article to help others who might need help understanding featured snippets.