If you aren't taking advantage of Pinterest to market your business, you're missing out! A lot of people think Pinterest is just for finding recipes or crafting, but there are HUGE benefits to using it for business. Pinterest has been the #1 source of traffic to our blog for several years now.
If you've done any research on Pinterest for your business, you've likely seen a ton of articles with a subject line looking something like these:
How I Went from 0 to 100k Monthly Pinterest Views in 6 Months.
How to Get 1 Million monthly Pinterest Views!
How I Increased My Monthly Pinterest Views in Just 2 Weeks!
Those numbers sound impressive and something that you would want to strive for, right? But here's the reality:
Pinterest Monthly Views don't matter
Seriously, stop worrying about that number. It's not going to help you grow your business.
The people writing these articles fall into one of 3 categories:
They are hoping you'll be impressed by their numbers and buy their course on Pinterest.
They are following a blogger trend in hopes to get ad revenue.
They truly don't understand why this number doesn't matter.
Monthly views on Pinterest go up and down all the time and have little to do with how successful you are with Pinterest marketing.
Our Pinterest Stats
To further prove why monthly views on Pinterest don't matter, let me show you our own stats.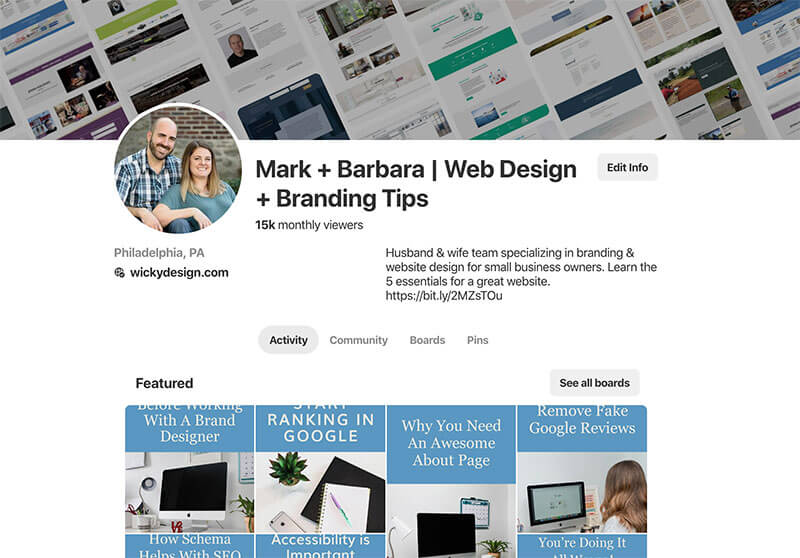 Our Wicky Design Pinterest has 15k monthly views.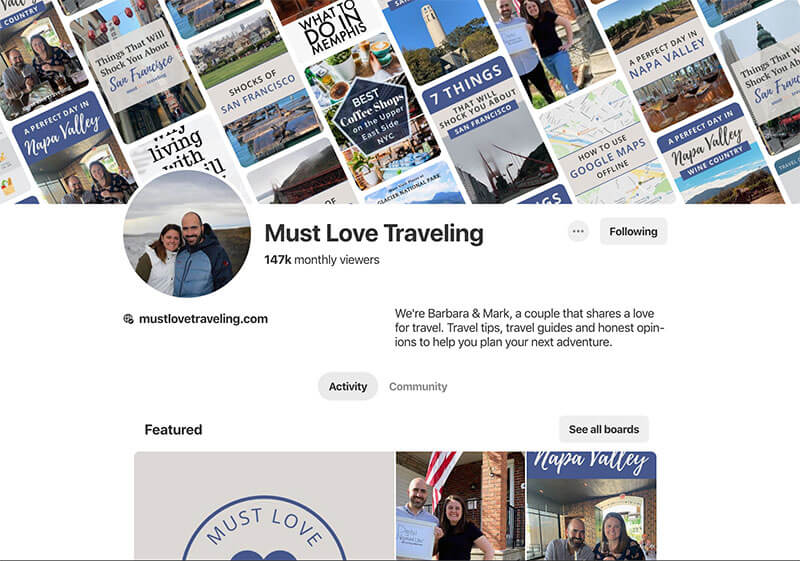 The Pinterest account for our travel blog, Must Love Traveling, has 147k monthly views.
Both numbers are pretty impressive, especially for our travel blog. 147k is a lot!
Now, let me show you our monthly page views from Google Analytics for both sites.

Monthly page views for September 2019 – Wicky Design

Monthly page views for September 2019 – Must Love Traveling
As you can see, the traffic to our site for the month is much lower than the monthly views on Pinterest. In fact, the monthly page views for both sites are nearly the same, despite having way more monthly Pinterest views on Must Love Traveling.
***********************
Learn exactly how to increase your monthly traffic with SEO. Sign up for our SEO audit.
***********************
The point is: Monthly Pinterest views DO NOT EQUAL monthly site views.
And monthly site views are what you should worry about. If people on our your site, they are buying your products, signing up for your services and joining your email list. You could have millions of monthly Pinterest views, but it won't mean much if those views are converting into click to your website.
What Pinterest Stats Should You Focus On?
Instead of focusing on your monthly views, focus on your monthly engagement. What's the difference?
Views are whenever a pin shows up in someone's feed. That could mean the person scrolls by it while looking for something. They aren't actually interacting with it.
Engagement is when a person sees your pin and takes an action, either saving to one of their boards, liking the pin, or (best case scenario) clicking through to your website.
Use Pinterest analytics* to see your overall engagement stats as well as stats for individual pins. I particularly like looking at individual stats because it shows what pin designs are working well and what boards have the most traction.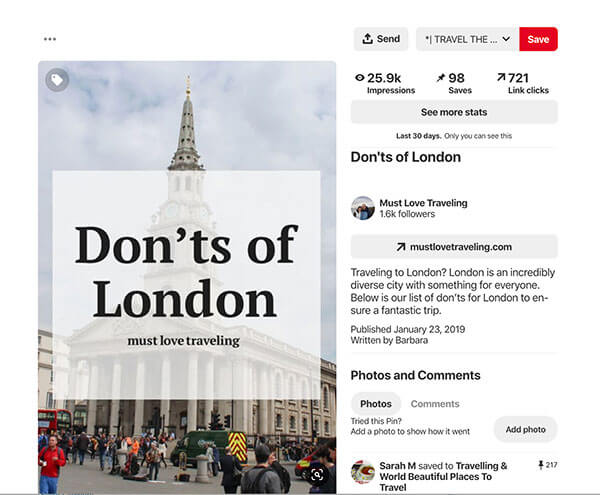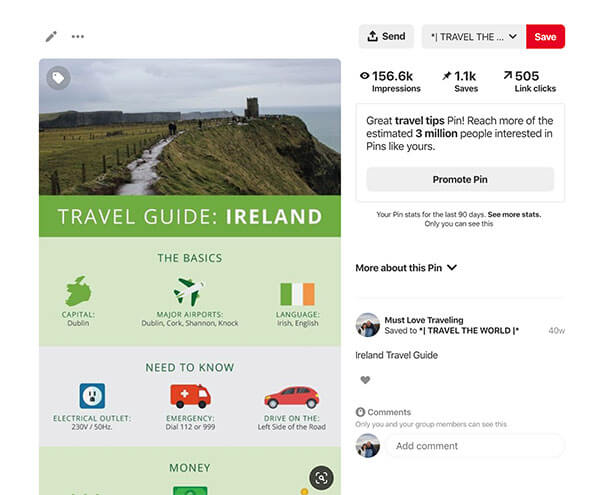 The numbers I focus on are saves and link clicks. Impressions are similar to views where the pin is just showing up on someone's feed, but the person isn't interacting with it.
*This requires you to have a business account on Pinterest.
Be Careful Who You Take Pinterest Advice From
Like anything, you need to be careful who you take advice from when it comes to Pinterest. As I mentioned before, a lot of people are using their high monthly viewer numbers to impress people into buying a course or clicking a link that gets them some ad revenue. If you're planning on taking a course or doing more research on Pinterest, steer clear from anything that focuses on monthly Pinterest views and instead focuses on gaining more traffic to your blog or website. One course I recommend is The Ultimate Pinterest Guide by Emily from Brighter Craft. This isn't a paid promotion. Emily has personally helped us with Pinterest and she really knows what she's talking about.
***********************
Want more tips on increasing traffic to your site? Sign up for our SEO Audit. Our SEO Audits are in-depth guides tailored to your specific website, not a one size fits all approach to SEO.
Sign up today!
***********************
I hope this article gave you more insight on Pinterest and why monthly views are nothing more than a vanity statistic. Focus on engagement, not views, and use Pinterest to generate tons of traffic to your blog or website.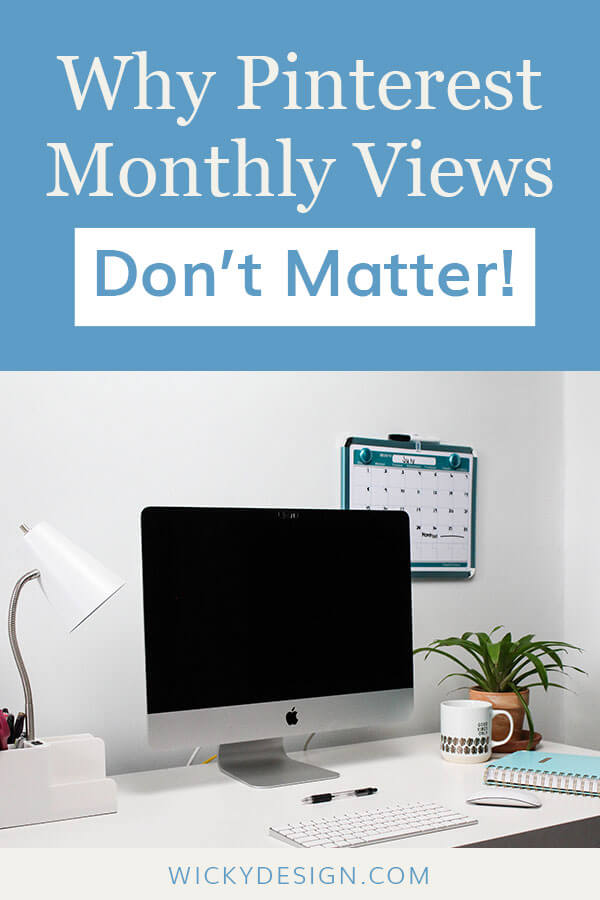 Additional Reading:
Pinterest Marketing Ideas for your Business
Common Instagram Scams